For unity vol.1

With the Functional Enhancement Building serving as the entrance to both the Medical and the Dental Buildings,
we will integrate the Medical Hospital and the Dental Hospital by the concentration of functions and the effective utilization
of buildings, with the aim of preparing the highest level of healthcare environment to address an ultra-aging society.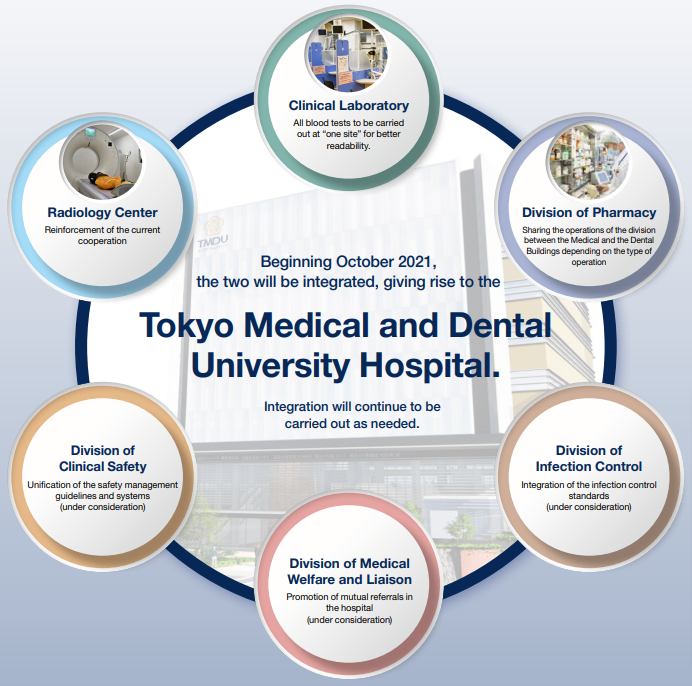 Tokyo Medical and Dental University Hospital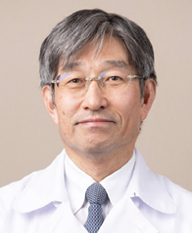 Message from Senior Deputy Director
TMDU Dental Hospital became integrated with the Medical Hospital in October 2021 to become Tokyo Medical and Dental University Hospital with a new beginning started as an advanced treatment hospital. TMDU ranks first in Japan and sixth in the world in the field of dentistry and fourth in Japan in the field of medicine. Through this seamless collaboration between medicine and dentistry, of a high standard unparalleled in the world, TMDU Hospital is striving to realize its philosophy of "providing world-class total health care and contributing to people's well-being".
This integration of the hospitals has increased the awareness of medical staff, including physicians, dentists, nurses, and dental hygienists, for multidisciplinary collaboration in terms of medical treatment, education, and research, and collaboration is progressing in all departments. The Oral Health Center, which specializes in perioperative oral health care for surgical patients and inpatients in medical departments, has also been established to further strengthen the functions of medical-dental cooperation and to develop a practical system that provides safe, reliable, high-quality, and holistic medical care. In order to meet the diverse needs of patients, the Division of Clinical Dentistry has established and strengthened specialized departments and outpatient clinics such as "Sports Dentistry", "Psychosomatic Dentistry Clinic", "Maxillofacial Prosthetics", "Speech Clinic", "Dental Allergy", "Dysphagia Rehabilitation", "Fresh Breath Clinic", "Orofacial Pain Clinic" and "Temporomandibular Disorders Clinic". In addition, we have established specialized departments and outpatient clinics with their own specialties to strengthen the functions of the hospital. We have also established the "Center for Advanced Interdisciplinary Dentistry" where a group of specialists from different areas of specialty take a comprehensive approach to each patient and provide high-level dental treatment in their respective fields. Our teaching hospital is highly regarded nationwide as a training institution for future dentists, dental hygienists, and dental technicians, and has produced outstanding dental professionals who will become leading professionals both in Japan and abroad. Students at the School of Dentistry experience a comprehensive practice-based clinical training program where they actually treat patients. In addition,three training programs have been established for each career path in the post-graduate dental clinical training program.
In order to achieve our mission as a university hospital and an advanced treatment hospital, we are striving to improve our medical environment and establish a system that can respond to future changes in the structure of diseases and new infectious diseases. New technological innovations and developments in dental diagnostics and treatment, and the training of future leading dental professionals at this hospital are all conducted alongside the patients who visit our hospital.
NITTA Hiroshi
Philosophy and Basic Hospital Policy
Philosophy
Contribute to people's well-being by providing the world's highest standard of total health care
Basic Policy
・Provide high-quality, patient-centered, holistic medical care
・Nurture medical professionals with a rich sense of humanity
・Develop and practice highly advanced medical care
・Maintain a hospital accessible to society that lives up to people's trust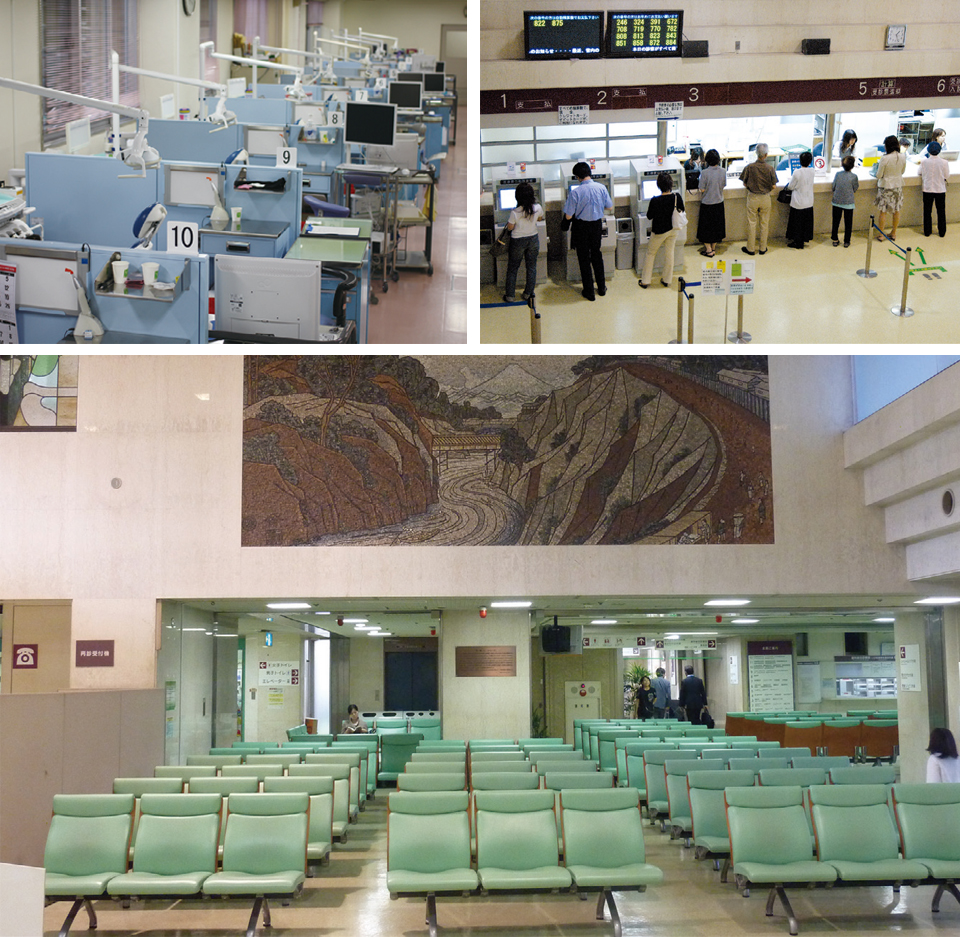 Center for Advanced Interdisciplinary Dentistry
The Center for Advanced Interdisciplinary Dentistry is a center comprised of multiple outpatient dentists who come from each specialized section working as a comprehensive dental team towards the purpose of delivering high quality and specialized dental care in an efficient manner. With the full range of specialists practicing dentistry at the Center, we can deliver comprehensive dental care on the premises (excepting special circumstances). The dental care offered here is of the highest quality, not covered under the health insurance scheme, signifying that all expenses must be borne by the patient, referred to here as "self-paid care." Health insurance coverage limits treatment methods, materials, and the like. This Center meticulously offers the best possible dental care and materials appropriate for each individual patient's constitution and oral condition, offering self-paid dental care under no restrictions in order to elicit the best possible results. Additionally, up-todate medical / dental equipment, station environment and amenities have been designed for this center as a vanguard of future dental clinics of our hospital. Our history started in October 2015 on the fourth floor of our dental hospital by remodeling the existing facilities. The best possible dental care was provided under these circumstances, however, with the newly designed center on the third floor, which opened in July 2019, enables an innovative system: secure guidance, safe equipment transportation, spacious private rooms and relaxing waiting areas. This center is the first stage of our hospital reform and also serves as a model of future dental clinics, not only in our hospital but also for other Japanese dental hospitals. Visiting us you will get a glimpse into the look and feel of future dental hospitals.
New and Improved Point
Even though we aim to see patients in a timely manner, if you should have to wait, we have created a homey space where you can relax with the views of Kanda River, Ochanomizu Station, Hijiri and Ochanomizu Bridges. With the new larger treatment booths, the patients, dentists and assistants can move comfortably, leading to safer and more relaxing treatment for all.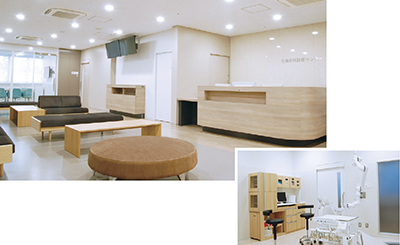 The One and Only Service
One of our advancements is the elimination of waiting time that often occurs if you need to be referred to another department. With the full range of dental specialists practicing at the same Center, comprehensive dental care on the premises will be possible not only among dentists but also the Department ofPharmacy, Oral and Maxillofacial Radiology Clinic, Dental Laboratory, andDepartment of Dental Hygiene. This center is next to Real Mode Studio,which is equipped with latest intraoral scanners, milling machines, and 3D printers.We can provide latest digitalized dental treatments.
TMDU always sets a goal of providing the best quality of care, and this center can provide our patients with high-quality dental service that we can be proud of.