Based on our internationally acclaimed dental research outcomes and achievements, TMDU Dental Hospital provides safe and high quality dental care. In addition, we are highly respected nationwide as an institution for training future healthcare professionals, which is one of our missions. Promotion of innovative dental medicine originating at TMDU School of Dentistry and use of these dental techniques is always put into practice for our patients.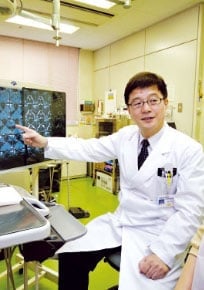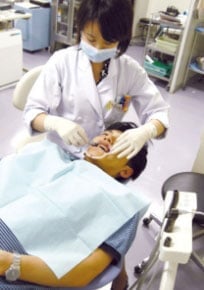 TMDU Dental hospital is the largest dental hospital in Japan with 4 clinical departments consisting of 27 clinics. We not only try to provide high quality specialized dental treatments, but also to offer dental care corresponding to various patients' needs by establishing special clinics. Along with clinics for conservation of oral and maxillofacial function specializing in dental caries, periodontal diseases, malocclusion, oral surgery, and prosthodontics, we also have orofacial pain clinic, psychosomatic dentistry clinic, temporomandibular joint clinic, clinic for maxillofacial prosthetics, sports dentistry, speech clinic, dental implant clinic, dental clinic for sleep disorders (apnea and snoring), dysphagia rehabilitation, fresh breath clinic, oral health care, dental allergy, and many more so that we can deal with any problem concerning the oral and maxillofacial region with our facilities and human resources.
In our dental hospital, we have fully equipped operation rooms utilized mostly for oral surgery, plus 60 beds for hospitalization. In the meanwhile, we serve as an educational institution for dentists, dental hygienists, and dental technicians, and work actively in undergraduate clinical training and postgraduate clinical training; one of the most popular postgraduate clinical training programs in Japan.
TMDU Dental Hospital records show 1800 outpatients/day and 18,000 inpatients/year, with the numbers increasing year by year. In July 2005, TMDU Dental Hospital was accredited for its high quality dental services by the Japan Council for Quality Health Care as the first dental hospital in Japan.
In 2015, the "Center for Advanced Interdisciplinary Dentistry" was established. This center provides dental treatments in a comprehensive and interdisciplinary manner, gathering dental professionals from each specialized clinic with the aim to provide high quality specialized dental treatment effectively. In this center, we can perform advanced dental treatments more efficiently through integration of our specialties.
Dental Hospital
Philosophy and Mission of Dental Hospital
Philosophy
Our hospital strives to train superior medical professionals and offer dental care of the highest standard for each patient.
Mission
・We practice safe and high quality dental care.
・We develop dental professionals who are full of human nature.
・We promote the development of new dental treatments.
・We contribute to society through the promotion of oral health.
Clinical Ethics Policy
・ Respecting patients' human rights and their right to self-determination, we will provide dental care based on adequate explanation and informed consent.
・Giving first priority to the best interests of patients, we will provide fair and equitable dental care.
・Respecting patients' privacy, we will fully ensure patient confidentiality and protection of personal information.
・In adherence to related laws and regulations, we will provide dental care according to the decisions of the committees in the dental hospital.
Message from the Director, Dental Hospital
MINAKUCHI Shunsuke
The mission of TMDU Dental Hospital is to provide safe and highquality dental care in collaboration with our internationally acclaimed TMDU Faculty of Dentistry. In response to the diverse needs of our patients, we have recently launched various specialized clinics; including sports dentistry, a psychosomatic dentistry clinic, a speech clinic, dental allergy, dysphagia rehabilitation, a special care clinic, a fresh breath clinic, an orofacial pain clinic, and a temporomandibular joint clinic which enable us to deal with any problem concerning the oral or maxillofacial region. In addition, in 2019, the "Center for Advanced Interdisciplinary Dentistry" was renewed.
It is my honor to represent our hospital which is highly recognized nationwide as an institution for training future dentists, dental hygienists and dental technicians who put forth efforts toward improving the quality of dental care domestically and internationally. Our dental undergraduate clinical training program begins 18 months before graduation and provides adequate clinical experience to our undergraduates. We also offer a mandatory postgraduate clinical training program after graduation, which is conducted in collaboration with regional dental clinics.
As a national university corporation, TMDU Dental Hospital is also highly expected to operate independently and to further improve management efficiency. In order to achieve our mission with satisfactory outcomes, we are striving to improve the medical care environments and establish a system that allows us to respond to changes in the future disease structure while stabilizing the fiscal foundation.
We strive to provide the best care to all patients visiting TMDU Dental Hospital with the development of innovative dental medicine, technological innovation, and the cultivation of future dental professionals originating at TMDU Faculty of Dentistry.
Center for Advanced Interdisciplinary Dentistry
The Center for Advanced Interdisciplinary Dentistry is a center comprised of multiple outpatient dentists who come from each specialized section working as a comprehensive dental team towards the purpose of delivering high quality and specialized dental care in an efficient manner. With the full range of specialists practicing dentistry at the Center, we can deliver comprehensive dental care on the premises (excepting special circumstances). The dental care offered here is of the highest quality, not covered under the health insurance scheme, signifying that all expenses must be borne by the patient, referred to here as "self-paid care." Health insurance coverage limits treatment methods, materials, and the like. This Center meticulously offers the best possible dental care and materials appropriate for each individual patient's constitution and oral condition, offering self-paid dental care under no restrictions in order to elicit the best possible results. Additionally, up-todate medical/dental equipment, station environment and amenities have been designed for this center as a vanguard of future dental clinics of TMDU dental hospital.
Our history started in October 2015 on the fourth floor of our dental hospital by remodeling the existing facilities. The best possible dental care was provided under these circumstances, however, with the newly designed center on the third floor, which opened in July 2019, enables an innovative system: secure guidance, safe equipment transportation, spacious private rooms and relaxing waiting areas. This center is the first stage of our hospital reform and also serves as a model of future dental clinics, not only in our hospital but also for other Japanese dental hospitals. Visiting us you will get a glimpse into the look and feel of future dental hospitals.