For unity vol.1

With the Functional Enhancement Building serving as the entrance to both the Medical and the Dental Buildings,
we will integrate the Medical Hospital and the Dental Hospital by the concentration of functions and the effective utilization
of buildings, with the aim of preparing the highest level of healthcare environment to address an ultra-aging society.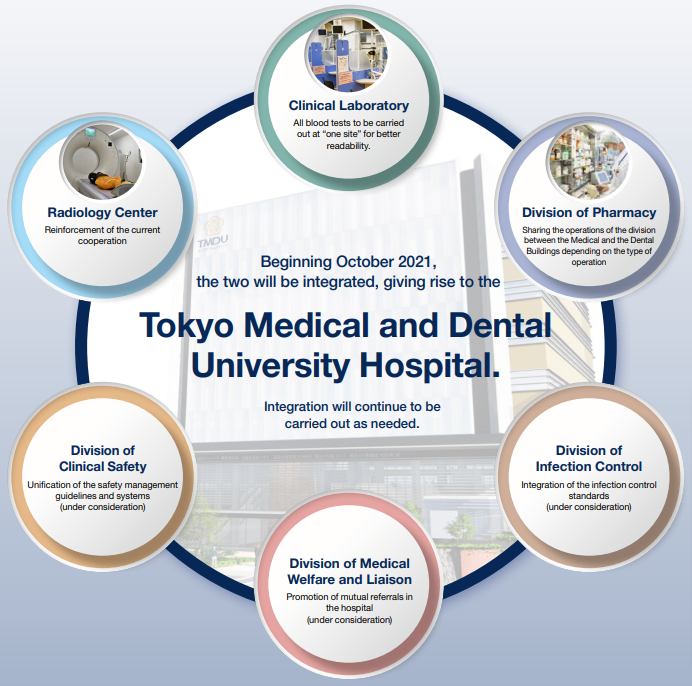 Center for Advanced Interdisciplinary Dentistry
The Center for Advanced Interdisciplinary Dentistry is a center comprised of multiple outpatient dentists who come from each specialized section working as a comprehensive dental team towards the purpose of delivering high quality and specialized dental care in an efficient manner. With the full range of specialists practicing dentistry at the Center, we can deliver comprehensive dental care on the premises (excepting special circumstances). The dental care offered here is of the highest quality, not covered under the health insurance scheme, signifying that all expenses must be borne by the patient, referred to here as "self-paid care." Health insurance coverage limits treatment methods, materials, and the like. This Center meticulously offers the best possible dental care and materials appropriate for each individual patient's constitution and oral condition, offering self-paid dental care under no restrictions in order to elicit the best possible results. Additionally, up-todate medical/dental equipment, station environment and amenities have been designed for this center as a vanguard of future dental clinics of TMDU dental hospital.
Our history started in October 2015 on the fourth floor of our dental hospital by remodeling the existing facilities. The best possible dental care was provided under these circumstances, however, with the newly designed center on the third floor, which opened in July 2019, enables an innovative system: secure guidance, safe equipment transportation, spacious private rooms and relaxing waiting areas. This center is the first stage of our hospital reform and also serves as a model of future dental clinics, not only in our hospital but also for other Japanese dental hospitals. Visiting us you will get a glimpse into the look and feel of future dental hospitals.