Course for Oral Health Care Sciences

TOPCourse for Oral Health Care Sciences
Message from AOKI Kazuhiro, Chief Professor of Course for Oral Health Care Sciences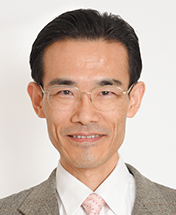 The School of Oral Health Care Sciences affiliated with the Faculty of Dentistry consists of the Course for Oral Health Care Sciences and the Course for Oral Health Engineering. Upon graduation, students of either course are awarded a bachelor's degree in oral health.

The predecessor of the Course for Oral Health Care Sciences was the School of Dental Hygiene, established in 1951 as an affiliate of the Faculty of Dentistry, and four-year education has been offered since 2004. Upon graduation, students completing the Course for Oral Health Care Sciences are eligible to take the National Examination for Dental Hygienists. Further, after lectures and training to acquire basic knowledge and skills, students undergo clinical training in medical institutions.

The predecessor of the Course for Oral Health Engineering was the School for Dental Technicians, with origins going back to the training course for dental technicians established in 1919, and four-year education has been offered since 2011. Upon graduation, students completing the Course for Oral Health Engineering are eligible to take the National Examination for Dental Technicians.

Pursuing either course, students explore the liberal arts, acquire knowledge of oral health and health of the entire body, and master advanced specialized techniques. These courses foster consummate dental health technicians possessing the humanistic qualities required of members of the dental profession, and also emphasize the mastery of specialized skills through practical training in addition to knowledge building. Moreover, with an eye to cultivating specialists capable of fulfilling vital roles in interprofessional collaboration in health care, which are becoming increasingly important, we are offering interdisciplinary lectures, training and seminars that bring together students from the School of Medicine, the School Dentistry, the School of Health Care Sciences, and the School of Oral Health Care Sciences.

The School of Oral Health Care Sciences offers a number of study abroad programs and opportunities for international exchange, including programs with affiliated overseas universities, in order to foster dental professionals with a global perspective who are capable of contributing to healthy longevity through oral health, not only in Japan but throughout Asia and across the globe. It is our earnest desire and expectation that graduates of the School of Oral Health Care Sciences will cultivate a global perspective and support the well-being and livelihood of all people through advanced oral health.
Message from ARAKAWA Shinichi, Director of Course for Oral Health Care Sciences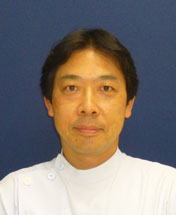 The predecessor of the School of Oral Health Care Sciences was originally established in 1951 as the School for Dental Hygienists (1-year program) affiliated with the Faculty of Dentistry, becoming a two-year program in 1958, and finally a four-year university program in 2004.

At the time of graduation, students will obtain eligibility requirements for the dental hygienist national examination and a bachelor's degree for oral health.

With an aim to educate oral health management specialists who can participate in an interdisciplinary approach to health care, interprofessional education, where dental hygiene students have joint training and practical exercises with students from the schools of medicine and dentistry, is conducted.

After receiving instruction in basic knowledge and practicing basic skills, students undergo practical training in various facilities including the dental and medical hospitals affiliated with our university. In addition, we also encourage participation in many overseas study opportunities and student international exchange programs, thereby enabling students to gain broader perspectives.

Since the Covid-19 has spread rapidly around the globe, student activities on campus has also been restricted. However, we truly wish that you would take positive attitudes to contribute to the health of people in the future. Moreover, we hope that graduates from our school will gain a global perspective and become a leading role player in supporting and promoting patient's health, well-being and improved quality of life through oral health.
Educational Philosophy at School of Oral Health Care Sciences
We strive to nurture the future leaders who have rich and warm humanity and contribute to society to realize healthy happy life of the people, based on knowledge and technology of oral health care sciences and welfare.
General Educational Objectives
Our graduates will:
Understand the dignity of life, scientific principles and concepts, and acquire bioscience knowledge.
Respect fundamental human rights and acquire the ability to interact with others by understanding their feelings and behavior.
Understand the role and importance of oral healthcare sciences and welfare in society.
Understand various mental and physical conditions and acquire knowledge and skills related to oral healthcare sciences.
Acquire scientific inquiry and problem-solving skills and cultivate the motivation to pursue lifelong learning
Acquire the ability to work inter-professionally with specialists in the related fields of health sciences, medical care and welfare.
Acquire the ability to make global contributions from the viewpoint of oral health.
Curriculum Policy
Through the curriculum of consultation-related specialized subjects, and the humanities and social science of the common subjects, students will nurture the consideration and communication skills necessary to cultivate a view on ethics as a healthcare professional.
Based on the study of natural sciences of the common subjects, studies for structure of the human body and its function and illness, constitution of the illness and promotion of recovery process, and graduation research in the specialized courses, students will acquire an interdisciplinary scientific viewpoint and research mindset.
Through PBL tutorial class and group discussion on oral health, specialties of each profession, oral health science, the welfare system and other various subjects, students will acquire skills to discover, analyze and solve people's health and lifestyle problems.
Through the basic theory of the dental healthcare science course, the basics of health education and its planning, practice and evaluation, and dental health clinical practice/training, students will acquire knowledge and techniques for dental health step by step, from the basics to application and nurture professional skills to protect and promote people's oral and systemic health.
Through study for health care service, health care welfare-related subjects and a joint class with other schools or courses, students will nurture basic skills necessary to practice oral health inter-professionally with health, medical care, and welfare specialists.
Provide education for acquiring attitude and skills toward international contribution, deepening understanding for other cultures and their societies, and being interested in international cooperation through study of dental English, oral health and international collaboration/cooperation.
Diploma Policy
1. To provide students with a broad education and a rich sensibility
Throughout their educational courses, ranging from general to specialized subjects covering professional and practical clinical training, students will acquire the broader viewpoints, rich sensibilities incorporating a deep understanding of humanity, and the high ethical standards necessary for oral health and welfare professionals.
2. To educate creative people capable of diagnosing and solving problems independently
Graduates will acquire critical thinking skills based on scientific grounds; independent problem-solving skills to cope with the diverse needs and advances in oral health, medical care and welfare.
3. To train medical professionals with a rich international quality
Graduates will have an avid interest toward international contribution in the fields of oral health, medical care, and welfare, and have acquired basic skills necessary to practice and cooperate in international activities.
Education for Oral Health Care Sciences
The predecessor of this school was originally established in 1951 as the School for Dental Hygienists affiliated with the Faculty of Dentistry, and became a four-year university in 2004. By the time of graduation, eligibility requirements for the dental hygienist national examination and a bachelor's degree for oral health can be obtained. In order to practice knowledge and skills, training at dental (medical) institutions starts from the first year, and from the second year basic practice begins accordingly. From the latter part of third year, clinical practice starts at our Dental Hospital, Medical Hospital and other various external medical institutions.
On the other hand, in order to train research mindset and problem-solving abilities, we have students conduct "graduation research", in which, students find the research theme independently, reveal facts, and discuss reasons for occurrence. Some of these students publish their studies in international journals during these 4 years.
Furthermore, in order to nurture dental hygienists with a global mindset, we encourage active international exchange, such as overseas training programs with universities in Europe, the US and Asian countries in the overseas training incentive system, inter-university exchange with universities in Vietnam, Indonesia, and Thailand and active acceptance of students from overseas dental hygienist courses. Through these, we aim to train dental hygienists with a global perspective.
Oral Health Care Sciences Course Curriculum
"Introduction to Dental Hygiene Theory and Practice" 1st year

Problem-based learning (PBL) with oral health engineering course students to learn about professional work and interprofessional education in health, medical care and welfare, as well as to acquire independent learning abilities.
"Media Informatics Foundation" 1st year

Students use their own laptop computers for a variety of tasks some of which are to edit images and movies, create charts, and calculate spreadsheets.
"Introduction of Preventive Oral Health Care Science" 2nd year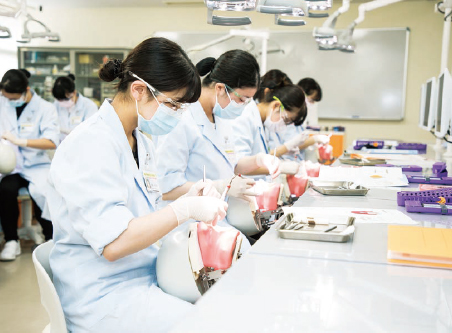 Learning treatment procedures using specialized instruments.
Gaining the necessary knowledge and skills → Basic operation training → Pre-clinical training with simulators (mannequins).

Reciprocal Training : Students learn treatment procedures via role-playing as a patient, a dentist, and an assistant.
"Basics of Health Education" 2nd year
Field training in an elementary school.

Students learn and practice methods to support their systemic health through oral health. The participants range from children to seniors, and individuals to groups.
"Mutual training" 3rd year
In "Practice and Application of Preventive Oral Health Care Science " and "Clinical Oral Health Care ScienceⅡ", students practice dental care assistance, dental preventive measures, and dental health guidance together.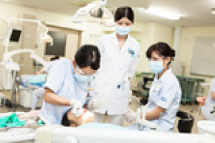 "Clinical Training"
Students study a variety of things including dental assistance, dental preventive measures, and dental health guidance at our affiliated Dental Hospital.

"Clinical Training with School of Medicine, School of Dentistry and Oral Health Care Science Course"
Oral health care practice with the third year medical and dental students. Interprofessional education is conducted, where dental hygiene students learn with medical and dental students, creating specialists who can participate in an interdisciplinary approach to health care.

"Clinical Practice at Dental Hospital" 4th year

Clinical training is carried out on actual patients under the supervision of dentists and dental hygienists.
International Exchange Program
The course for Oral Health Care Sciences provides systematic learning opportunities, and cultivates healthcare professionals with a "broad education and rich sensibility", "problem raising and solving ability", and an "international nature". For globalization and international experiences, many overseas study opportunities and international exchange programs are conducted for students to gain the broader perspectives necessary for establishing decision-making skills either on their own or as part of a team, to see the world with flexibility, to seek unlimited possibilities, and to find a dream for future dentistry and dental medicine.

Noda Suzune 4th year student, School of Oral Health Care Sciences Study Program in Taiwan
I visited Taipei Medical University for five days from March 4th to 8th, 2019. Taipei Medical University (TMU), established in 1960, has ten specialized departments in medical care and five associated hospitals. It receives 6,000 students every year. TMU is also a research institute and has achieved many breakthroughs and innovations. The university's progress and growth in various fields such as education, research, and services, have attracted worldwide attention.
I interacted with students on the Oral Hygienist program of the College of Oral Medicine. In Taiwan, no qualification as a dental hygienist has been established, but at Taipei Medical University, oral hygiene is taught as a long-term investment for the future. Through my participation in several classes, I realized that the systems and challenges related to dentistry differ between Japan and Taiwan due to differences in the insurance systems and the populations' age distributions. In addition, through the hospital visit, I learned that the water supply and electricity maintenance was different from that of Japan, and the structures of the systems were different.
During the training, students introduced us to local food and guided us to sightseeing spots. I experienced the atmosphere and smells of the local market and the tastes of different foods. It was a fresh and interesting experience. In addition to learning about dentistry, I greatly benefited from experiencing cultural differences through the five-day exchange with students at Taipei Medical University.
Through this training, I learned that dental hygienists play an important role in solving dentistry and medical problems in Taiwan, which is why Taipei Medical University provides advanced education in this field. Many of the teachers have learned from the situation in Japan, where dental hygienists have already been established, and are seeking to apply this experience in Taiwan. Many of the students were keen to learn about the experiences of dental hygienists in Japan, deepen their understanding of the impor tance of oral hygiene and become oral hygiene specialists. I have been fortunate to be in an environment where I could learn and work in oral hygiene, and I aim to enhance my knowledge and experience as an oral health specialist.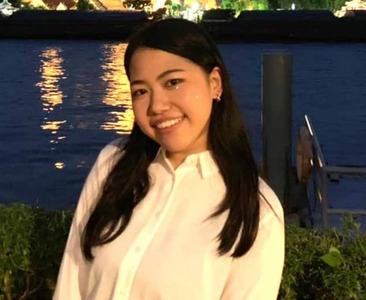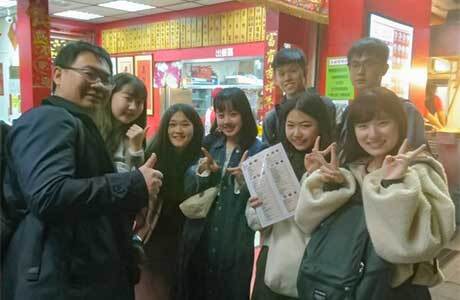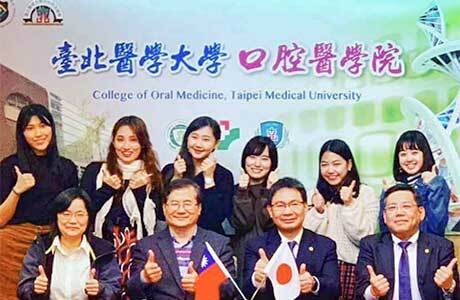 TMDU Annual News vol.13
NAKAHAMA Yuri 3rd year student, School of Oral Health Care Sciences Study Program in Thailand
IN SEPTEMBER, I visited Mahidol University in Thailand for nine days.
I really enjoyed my stay in Thailand and gained a lot of valuable experiences.
In my overseas training, I experienced and learned three major things.
The first is about Thai dental education.
At Mahidol University, dentistry students participated in actual treatment in hospitals as practical training. For example, in the practice of elementary school screening, children were given treatments that are generally performed in dental clinics in Japan, such as removal of tartar, instruction on how to use floss, and application of fluorine.
We were also allowed to participate in this training assistance. The children were very friendly and cute. I was able to interact a little with them by teaching them simple Japanese, like "Arigato".
Second, I learned about Thai dental treatment. After visiting various facilities, I was surprised to learn that dental treatment in Thailand was at a level not much different from that in Japan, or even better. The most impressive of these facilities was a clinic that provided a large volume of dental aesthetic treatment to foreigners. In this clinic, cleaning, sterilization, and packing of instruments were performed in a single set of treatments. The clean area was managed very strictly. This can only be done because the hospital is very large, which is difficult in a small dental clinic in Japan. I imagined that foreigners would be pleased to receive treatment in such a well-managed clinic.
There were plenty of opportunities for me to speak English. Although I'm not particularly good at speaking English, I enjoyed communicating and interacting with Thai students.
Finally, I learned a lot about the cultural aspects of Thailand. I experienced various activities, sightseeing and shopping.
My favorite in particular was Thai food. I really like to try unfamiliar foods, especially exotic dishes sold by street vendors, various delicious sweets, and fruits that are not accessible in Japan.
Overall, through this overseas shortterm training program, I was able to have many invaluable experiences. I gained a lot of knowledge, so I hope that I can use that new knowledge in my future career as a dental hygienist. I would like to thank all those involved in this overseas training, teachers who sent me overseas, the professors and family members who took care of me in Thailand, and students from the School of Dentistry at Mahidol University who kindly made contact with us.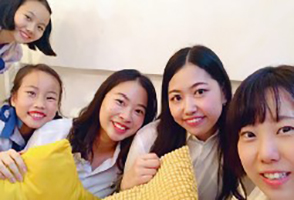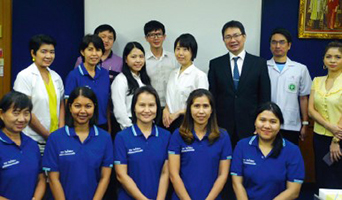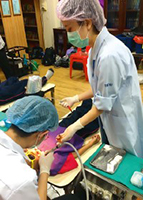 TMDU Annual News vol.12
OZAWA Haruna 3rd year student, School of Oral Health Care Sciences Study Program in Thailand
I VISITED THAILAND for dental training last summer. I enjoyed it very much and I would like to return there again. I went to many facilities during this training, including the Golden Jubilee Dental Hospital, a community health center, a school for dental nurses, the faculty of dentistry at Mahidol University and a private clinic. I would like to introduce two things that impressed me during this training.
First, dental nurses (DNs) in Thailand were similar to dental hygienists (DH) in Japan. In Thailand, most dentists work in urban areas, and DNs work in suburban areas, as there are not as many dentists there. I heard a DN's story at the community health center, and I thought that she was doing wonderful activities for the community's health.
These included some of the same things that DH do, including preventive dental treatment and health education for children, elderly people and pregnant women.
She also actively visited other locations such as schools and homes.
Additionally, she made great connections with professional staff and volunteers, working hard with them to promote community health. As a DNs, she can do what DH can't. Also, DNs have the skills and ideas for promoting community health through their connections.
I think it is important to support the health of all the people in a given community.
Second, regarding dental care activities in Thailand, there are systems, designs and practices that Japan does not have, like the idea of high level standard precautions for patients. I would like to adapt this to Japan to improve patients' health and also protect Japanese dental care workers. Comparing Thailand and Japan, the dental treatment is almost the same. The differences are in the culture, available resources and environment. I think that's why the systems and rules are different. If we don't know about foreign culture, we may think that Japanese ideas are correct.
By understanding the background of each country, we can discover a lot of good points and problems in both places. I felt that both Thailand and Japan are working hard to provide the best dental care to meet patients' needs according to their cultures, resources and environments.
Before this training, I was enthusiastic to learn about Thai dental treatment, culture and values. After finishing this training, I realized it was also an important opportunity for me to think about my own values. It was a valuable experience to study in a country far from Japan.
I was glad to make good friends, too. I was influenced by them, especially their attitudes towards studying, their English skills and positivity. They helped me notice that I have to continue learning and acquire knowledge from my classes. I will stay in touch with them forever. These experiences made me strong and I would like to utilize them in my future and practical training.
Thank you for giving me this valuable opportunity.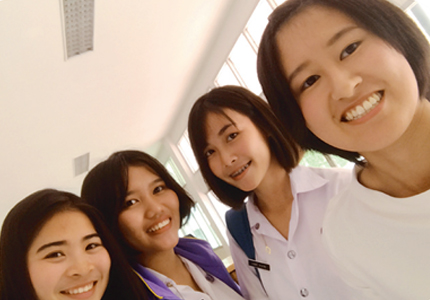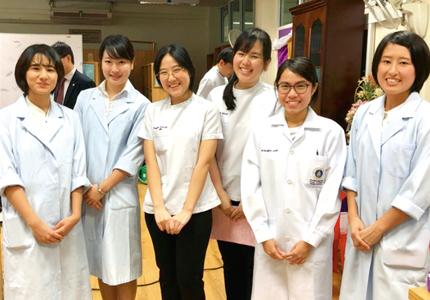 TMDU Annual News vol.11
WATANABE Rina 4th year student, School of Oral Health Care Sciences Study Program in Korea
DURING THREE WEEKS from September 9-29, 2018, I received training at Dankook University in Korea.
Dankook University is a private university founded in 1947, and has two campus locations: Jukjeon Campus and Cheonan Campus. The Department of Dental Hygiene belongs to the Faculty of Health Sciences at Cheonan Campus.
Dental hygienists in Korea work in a similar environment to Japan. However, in Korea, the difference is that dental hygienists can take dental radiographs.
Like Japan, there are three-year colleges and four-year universities as educational institutions. So, there were some students who had already graduated from a three-year college.
During this training, I took classes with students in their second, third and fourth years. With the second-year students, I attended dental radiology training and dental hygiene practical training (fundamental practical training).
As I mentioned above, Korean dental hygienists can take dental radiographs, so there were lectures and practical training in dental radiography.
With the third-year students, I attended classes in orthodontics, prosthodontics, pedagogy, pediatric dentistry and clinical practice. Almost all the classes were taught by teachers using textbooks, but for prosthodontics, it was interesting for me to see the students in charge of making presentations, and teachers giving them feedback. I thought it was not only the input of information, but also creating opportunities for output that deepened students, understanding. The fourth year classeswere in nutrition, pharmacology, infection management, medical communication, medical insurance and clinical training.
As for trainings there was basic training, third-year practical training at hospitals and fourth-year mutual and clinical training. During practical training at the hospital, I mainly practiced preventive dentistry. I felt that one characteristic of Korean facilities was that they treated a small number of patients with great care, as the treatment was not covered by insurance.
Clinical practical training is similar to practical training; however, in clinical practical training the students invite patients to participate. What impressed me most was the detailed assessment.
Using a phase contrast microscope, they showed the bacteria in dental plaque to patients. Furthermore, each patient ,s risk management was managed by conducting highly detailed tests such as saliva volume measurement, saliva pH measurement and breath tests. I was also surprised that the rolling method was recommended during TBI because in Japan, the scraping method is standard.
During my time in Korea, I was also able to try on a Korean folk costume called chima chogori with my fourthyear classmates. They said they had also worn it for the first time, so it was a valuable experience.
Many Korean students said they liked Japan because of Japanese food, animation, TV dramas and more. During my stay, I had a truly rewarding experience and was blessed with an environment in which many students supported me and helped me in many situations. I appreciated it all. Thank you so much.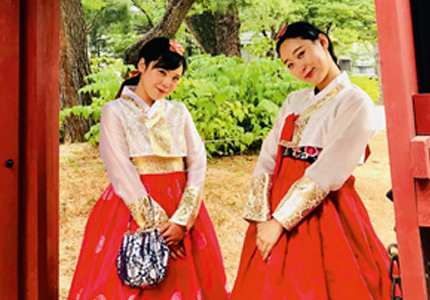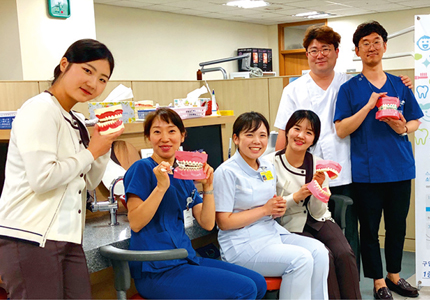 TMDU Annual News vol.11
Practice scene
Education of Basic Dentistry.
Basic Training of Oral Care in the Practice Room

Clinical Education in the Division of Clinical Dentistry, Hospital
Clinical Education in the Division of Clinical Dentistry, Hospital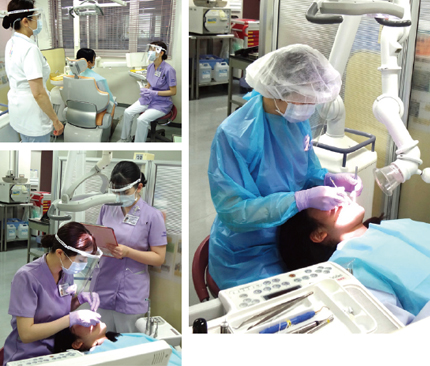 Group Work in the Class of Social Welfare Subjects.

Practice Outside the Campus.
Careers after graduation
A specialist in oral health care and rehabilitation in a dental or medical hospital.
A teacher or researcher at a university or college related to the oral health care.
Graduate study related to oral health care.
A specialist in oral health care and rehabilitation at a welfare facility.
An administrator or specialist in community oral health care.
A career employee in a company associated with dental health.
Departments and Faculty
Lifetime Oral
Health Care SciencesDatabase

Professor

ARAKAWA Shinichi

Junior Associate Professor

MATSUDA Yuhei

Main objective of Lifetime Oral Health Care Sciences is to understand and learn how oral health care contributes to the preservation of general health and healthy life expectancy.

Ozone (O3) possesses antimicrobial, disinfectant, and healing effects and has been utilized in the medical and dental field. We are now investigating the function and clinical utilization of the highly stabilized ozone water: Ozone Ultrafine Bubble Water (OUFBW). Dysbiosis in oral cavity might cause systemic changes other than the destruction of periodontal tissue. We are also trying to develop strategies to obtain symbiosis for periodontal and systemic health.
Oral Care for
Systemic Health
SupportDatabase

Assistant Professor

ITO Kanade

We teach the knowledge and skills necessary for oral health activities through classes in charge. Specifically, we will teach about the relationship between oral health and general health.
Preventive Oral
Health Care ScienceDatabase

Assistant Professor


ADACHI Naoko

In order to cultivate students' abilities to prevent and detect oral diseases at an early stage, which are important to maintain and improve the nation's health, we help students acquire deep academic knowledge and high standard skills in preventive oral health care such as skills to check over the condition of oral cavities.
Department of Oral
Health Sciences
for Community
WelfareDatabase

Professor

MATSUO Koichiro

Junior Associate Professor

HIDAKA Rena

The goal of the program of Oral Health Care Science for Community and Welfare is to promote oral health optimized for hospitalized, institutionalized, and home-cared patients with inter-professional collaboration in medical treatment, long-term care, and welfare. Specifically, our researches are focused on oral function and meal support to contribute health and quality of life.
Oral Health
Care EducationDatabase

Assistant Professor

SUZUKI Hitomi

Oral health care education is special field of study which deals with establishment of theoretid and skill for health promotion to contribute to the development of the health.